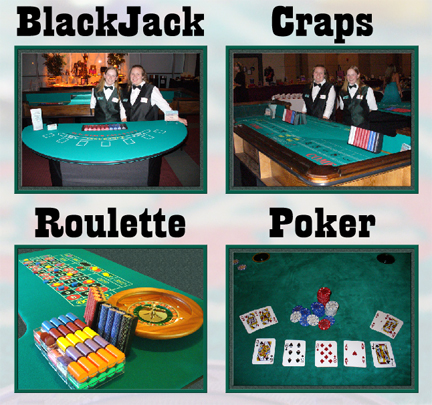 Our Services include:

• table rentals
• playing equipment
• dealers
• delivery/pickup
• setup
• All included!!
Entertainment Event Ideas

• anniversaries
• bachelor/ bachelorette
• birthdays
• fundraisers
• general celebration parties
• graduations
• holiday parties
• office parties
• poker parties
• wedding receptions
We do casino parties at your home or business event. We are the one stop shop for your entertainment needs. You need entertainment we provide the services. At the end of the party we pack our equipment and leave our table areas orderly. This is all included in our pricing. Click on the "Party Estimate" link to request a quote for your party. We are local to Chico CA and our coverage area is Butte County and surrounding areas. Casino Party People provide a realistic entertaining casino like experience. Our goal is to mimic a casino in such a way that people who attend the party believe they are at a real casino. Because these parties are for entertainment only, there is no risk of losing money. So people who are trying new games or have no gaming experience, have nothing to lose and no money at risk. This also provides partygoers to have an experience they will never forget. Having a entertaining party is a fun and exciting experience. Let us provide the entertainment and your guests will thank you.
Casino Party People can be reached at:
Phone (530) 774-4648
Email: webmaster@casinopartypeople.com